Finally.
Today I'll begin the process of shuffling my indoor plants in and out each morning and night. I need to open the hoophouse today and give everything a good drink of water. A few nights this week I'll leave it uncovered completely to harden off the seedlings to the new weather in our forecast. I've been waiting so long for these days. I even welcome the idea of 5 days of rain, as long as it's not snowing, sleeting, or just plain cold.
This morning, Carla's coming over to help me move some edging I picked up yesterday. I might move a few plants in the perennial bed. But first, coffee. It's 25 degrees.
9:10am
- Second cup of coffee down.
I repotted most of the tomato seedlings. They had gotten leggy under lights. I just plopped the coir mass from the original containers into larger cups and filled in around them with a 50/50 perlite and peat/coir mix. Since they'll spend most days outside in the shade now, I think the peat should be okay. I may need to start giving them a bit of fertilizer soon.
The black mission figs have rooted well. I transferred them from the orchid mix into a more soil like mixture, 50/50 peat/coir and perlite.
I pulled the 4 Marseilles figs from the cloner too. They're starting to develop a little mold. Moving them to a less humid environment should be a good thing. Lots of leaves, very tiny root initials on almost all.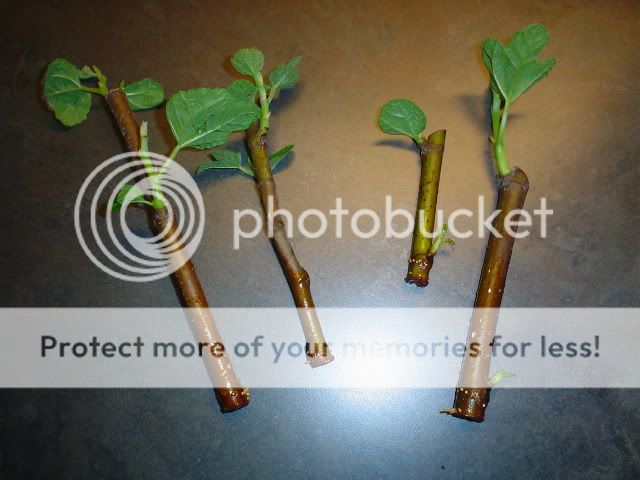 They'll spend a few days in the vented nursery chamber. It's just outdoor rope lighting with a tiny bit of water in the bottom to provide some humidity. Once I see roots, I'll pot them up and move them outside too.
Overall, I'm happy with what I've got so far. The warm temperatures should help speed growth this week and next. Still waiting on 45 degrees before moving my plants outside. I'll head back down now and settle them in on their wheeled rack.