It started out like any other day. I made my coffee, walked the yard and took a few pictures. The morning glory on the chimney bloomed last night. Two blooms. It was supposed to be Heavenly Blue.
I found a new rudbeckia.
After a quick trip to Carla's for more gardenia cuttings, I potted up several rooted cuttings from the cloner and stuck more. These include Luna Red and Turn of the Century hibiscus, two vitex, an oak leaf hydrangea, and a few other odds and ends. The gardenia cuttings went into the cloner. It's still only half full.
Then I went out to the potager and pulled the rest of the corn, raked the soil and scattered seeds for collards and mustard. I really don't eat much of either, except in their raw form, but I need to grow something. Don't blame me, I don't make the rules.
I also pulled two rows of tomatoes that were done weeks ago. In their place, I planted the rooted cuttings of Beefsteak, Green Zebra, and Celebrity. Four of each, I set the sprinkler out. These were stuck on August 8.
Lots of roots.
I checked on the rest of my veggies and took a few more pictures. I also picked a few things.
Yellow pear, my favorite cherry sized tomato.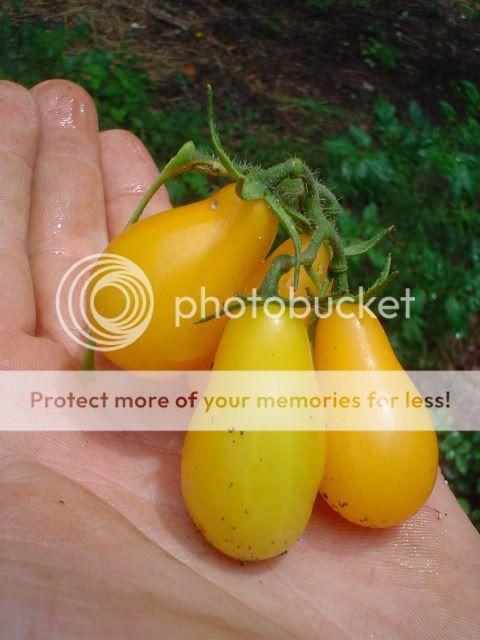 My bumper crop of beans. Yes, these are the only two so far this year.
My only pumpkin so far.
I still had about an hour before I needed to head inside to work on the drawings my former boss has asked me to do. I pulled the lawnmower out of the garage and set to work mowing the back yard. Less than 5 minutes into it, the mower kicked up a rock and I was bleeding. I crawled back to the house, wrapped the wound in a towel, and tried not to think of how hard it's going to be to walk on Thursday when I go back to work.
Three hours later, the bone is bruised, but not broken. The bleeding has stopped. I've got my leg elevated so the foot is asleep. I'm hungry. My harvest is still sitting downstairs on the table in the basement. *sigh*