The killer awoke before dawn. He put his boots on.
The basement smells great this morning.
The Ecuador white that was supposed to be a yellow is now the subject of a test. I plan to leave it to the elements to see what happens. I have plenty of white cuttings and will take more from the new growth over the winter.
I cut down Kongmansia. This one was a purchased plant and has done nothing all year. Spider mites have attacked it since the day I planted it.
It's alone in the living room window to see if it will root. I want to keep it isolated even though I treated it yesterday. I need to clean my windows too.
The largest stalk of the Confederate Rose was cut down too. I've never successfully rooted these, so we'll see what happens. I was able to grow two of these from seed this year. They were wintersown in late March. The other one has performed poorly in the perennial bed, being planted out not long after I injured my leg.
They are supposed to root easily in water. I stuck one in the cloner, the other three are being treated like brugs. White bumps should form and grow into roots.
I took cuttings of white lantana, Miss Huff lantana (she has thorns!), Provence lavender, and rosemary. Again, lots of trial and error here. My fingers smell of rosemary.
It's 50 degrees up from a low of 37 last night. Tonight, mid 30s and probably a light frost will settle. I've got a few more things to do before work this morning. Most notably, I want to move more of the firewood into the basement.
11:03am - Three wheelbarrows of wood have been transported to the basement. Lots more left out there. I got bored with that pretty quick and decided to do something more destructive. I set the two outer posts for my backyard "gate".
On Thursday, the concrete should be set well enough to attach the two fence panels I bought this summer for $1 each. Still not sure about the color they'll be painted.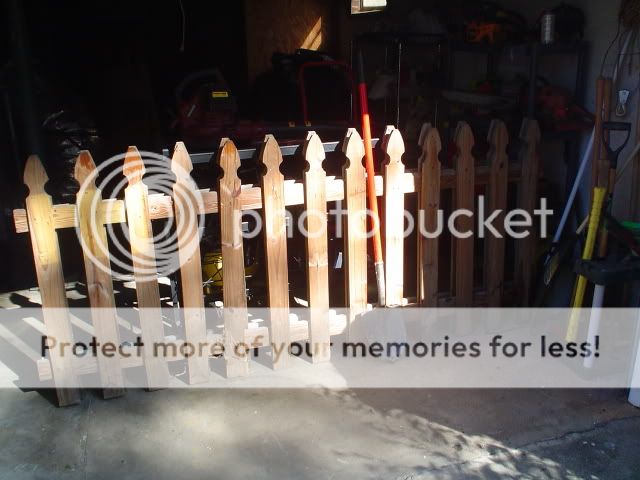 Between the two center posts, copper pipe, removed from the basement a few weeks ago when all new plumbing was installed, will be used as a trellis for some scrambling annual vine. I'm thinking morning glories.
Only a little pineapple sage is left. I had to chop down 6 plants to make room for the posts.
I didn't bother taking cuttings. I did collect another batch of seed.
Having a late breakfast of bagel and cream cheese. Working late again this evening. I have another hour I could spend in the yard, but there's very little I can do right now.