It's another dreary, cloudy day here in NC. Overnight, it rained again. It wasn't much, but the ground that was soggy is now fully wet. Walking across the lawn leaves depressions. On the other hand, we're less than a month away from reversing the tilt into winter. Solstice will be here before we know it. The last of the fall color in the backyard is gone. The only remnants are the leaves covering everything that stands still.
Not everything is so bleak. Morning glories in the wild are still blooming. This one has entangled itself with the elaeagnus.
The orange rose is still blooming too.
These buds probably won't open with frost in the forecast for Friday night.
Up the street, Calycanthus floridus is still green and golden. I have several of these planted in the shrub island that I wintersowed last year. The largest one is about a foot tall.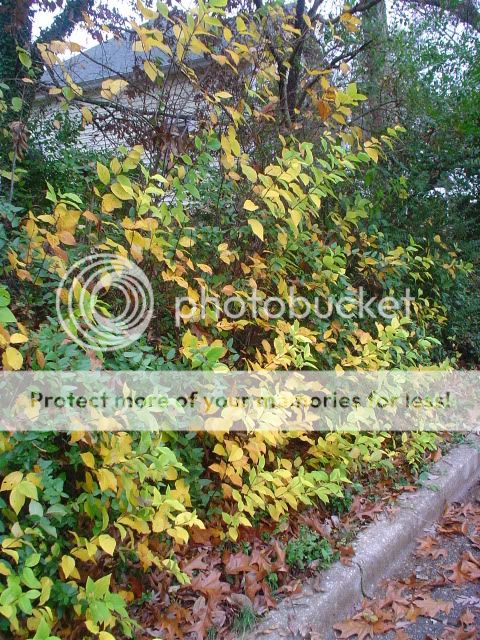 Sweet gums are still dark red. I should try to locate some seed pods for the gully when I go home tomorrow for Thanksgiving. They grow all over the place at my parents' house.
Speaking of the parents', my mom wants two Leyland Cypresses for her yard. I planted these along the fence earlier in the spring. They need to be moved, so I'm taking them to her. Tomorrow is also her birthday. I bet she thinks I forgot.
Miss Huff (probably not) is lonely without Yvonne's salvia. With so many unripened seeds on the Salvia, I cut it down this morning and brought the flowers into the basement to dry. I won't trade seeds from this batch, in case they aren't viable.
Cold weather is on the way. I need to find a day to get out back and collect more firewood. There's plenty to be had. I just need to split it with the gas powered log splitter. Waiting for a cold day. Things that slither could still be moving under all that greenery.
For all of 5 seconds, the sun tried to peek through the heavy clouds. Then it disappeared. If the forecast is right, we should see some sunlight before it sets tonight.